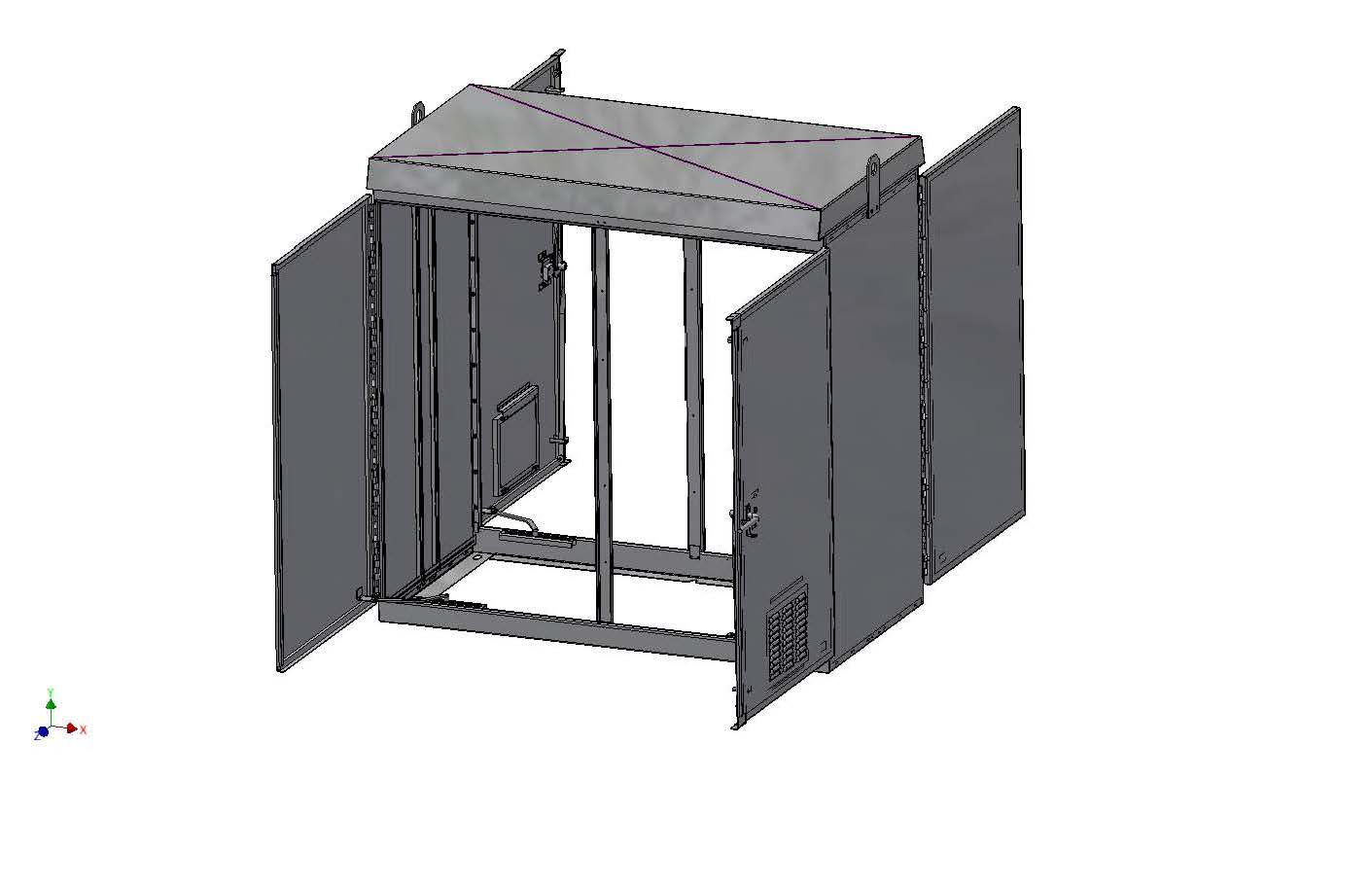 Options & Accessories:
Lock, keying, other than standard

Windows

Switch Compartments

Paint Finishes

Filters

Shelves

Panels, Center

Custom Equipment Mounting

Rack Frame Assembly

Available without removable center post
Climate Control:
Air Conditioner

Sunshields

Insulation

Heater

Forced-Air Ventilation Fan
The complete enclosure is made from 0.125″ thick aluminum alloy type 5052-H32 to provide a strong and rigid construction. Alternate material is 14 gauge type 304 stainless steel. Specifier must choose the material to be used.

The enclosure is equipped with two (2) adjustable "C" mounting channels on both side walls, providing versatile positioning of shelves, optional panels or rack mounting angles.

The door frame opening is double flanged on all four (4) sides. Flanges increase the strength of the door opening and help prevent dust and liquids from dropping into the enclosure when the doors are open.

Removable center posts are an integral part of the a three-point latching system and provides increased security and environmental protection.

All exterior seams are ground smooth or sealed weather-tight with silicone sealant.

Enclosures have provisions for mounting a forced air fan system that can be thermostatically controlled. Air is exhausted through a slotted vent system in the roof overhang.

The enclosure doors utilize an overlapping design and are equipped with a three-point latching mechanism with nylon rollers at the top and bottom.

The door handles are 0.75″ stainless steel round bar and have provisions for padlocks.

The standard main door lock is Corbin #15484 or equal.

Louvered air vents with filter retaining brackets and disposable paper filter elements are provided.

The main doors are sealed with closed-cell neoprene gasket.

The continuous door hinges are 0.075″ thick stainless steel with a 0.25″ stainless steel hinge pin.

Natural aluminum enclosures are mill finished per federal specification QQA-250/8.

Painted enclosures are treated with with an iron phosphate coating and dried by radiant heat.