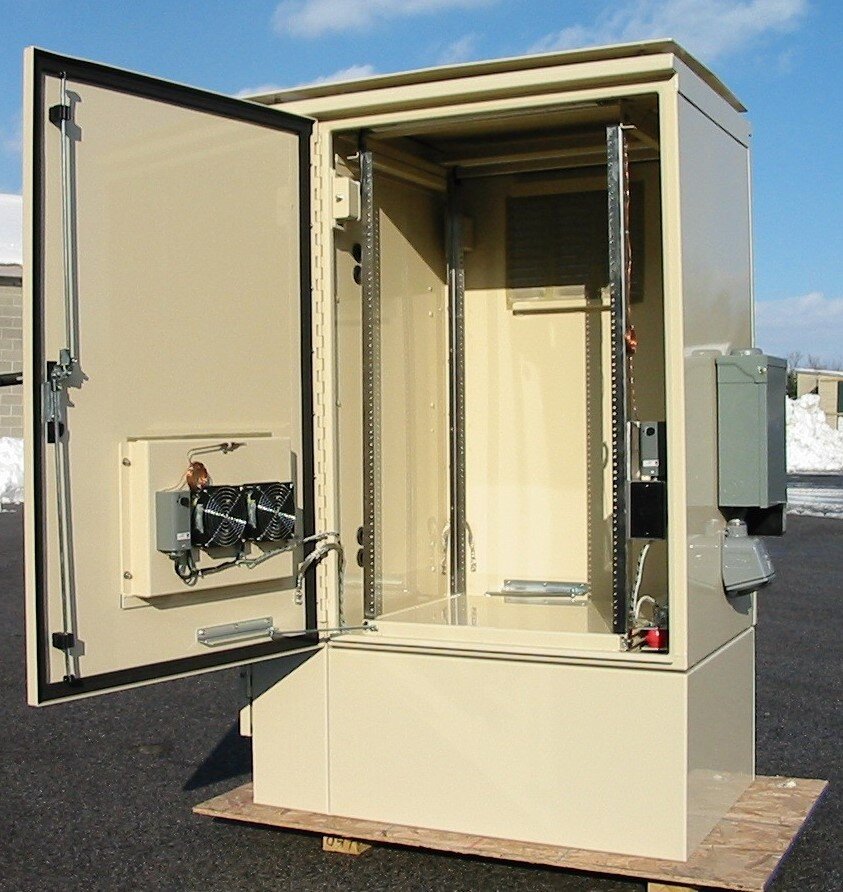 Battery & Generator Enclosures
At APX Enclosures, we can design and fabricate an enclosure to meet your required footprint. Additionally, we can design and manufacture standard or custom rack configurations based on the items that will be installed the enclosure. For any necessary certifications, APX will support and fulfill these as requested.
Our production team can also provide valuable electrical integration services that includes wiring and testing of the components prior to shipping the enclosure from our facility.
Customizable Indoor and Outdoor Telecom Equipment Cabinets
We design and manufacture UL-listed telecom cabinets that meet all National Electrical Manufacturers Association (NEMA) standards for safety, performance and quality. Depending on your location, we also ensure our products meet all your local regulations.
Our NEMA 3R and NEMA 4X indoor/outdoor telecom cabinets are suitable for installation in the toughest climates. Both models provide secure spaces you can use to protect your electrical equipment from a range of potential hazards, including:
Dust and debris: Our products keep dust and foreign objects from interfering with your critical electrical systems, helping you avoid damage and interruptions.

Moisture and corrosion: All of our NEMA telecom cabinets stop the rain, sleet, snow and ice from getting in, eliminating issues and losses caused by corrosion.

Unauthorized access: These cabinets are durable and lockable for reliable protection against equipment theft, vandalism and access by unauthorized personnel.
These products also offer unique advantages. Our NEMA 3R telecom equipment cabinets provide excellent protection from solid objects like dirt, clay and gravel. The NEMA 4X line offers added resistance to directed water spray and corrosion, as well as protection against finer dust particles.
Telecom Cabinets With a Range of Potential Applications
These weatherproof indoor/outdoor telecom cabinets are modeled after proven designs, and they are customizable to meet your needs. We can build to your specifications or take your requirements and create a solution that exceeds your expectations. You can configure our NEMA 3R and NEMA 4X cabinets to provide enough space to contain all the equipment you want to keep safe, including:
Computer servers: Keep your servers in a safe space that is easy to keep cool. These cabinets also make it easy for technicians to reach the ports they need to expedite service.

Patch panels: If your telecommunications system incorporates patch panels to connect and manage your incoming network cables, you can keep them safely stored in your cabinet.

Switches and routers: Our custom indoor and outdoor telecom cabinets provide you with a safe space for storing your network switches and routers that is centralized and easy to reach.

Supporting equipment: We can design your cabinet to include room for all the additional equipment your system requires, such as laptops, fans and options for managing network cables.
Custom Configurations To Meet Your Needs
Whether you need a telecom pedestal enclosure or a large cabinet with multiple doors, our team will create a design using your choice of stainless steel, carbon steel or lightweight aluminum. You can also choose from a wide range of optional features to include in your custom design, including:
Fan kits

Cabinet insulation

Heating and cooling systems

Silk screening and digital printing

Custom locks, hinges and brackets

Lights, alarms and other electronics
#telecomcabinets #telecomenclosures
Start Designing Your NEMA Telecom Cabinet With APX Enclosures
All APX Enclosures NEMA indoor/outdoor telecom equipment cabinets are made in the USA and backed by a 30-day simple return policy and a 1-year product warranty. If you're ready to get started, send us a message, and we'll assist you through each step of the design phase — including drawings, prototype review and cabinet production. You can also connect with one of our experts by calling us at 717-328-9399.