Custom Sheet Metal Fabrication in York, PA
UL LISTED · NEMA CERTIFIED
Order a custom UL listed, NEMA certified sheet metal enclosure from APX Enclosures, an award-winning industry leader.
APX Enclosures is a top manufacturer of electrical enclosures and services. We were founded in January 2001 as Tri-County Enclosures Inc., focusing on outdoor traffic enclosures. Since then, we have changed our name, tripled our workforce and expanded our offerings to reach new markets.
Our specialty products are NEMA 3R and 4X enclosures that can be customized to meet your unique specifications. We offer a variety of services to ensure that your enclosure meets your needs, including electrical assembly and integration, custom metal panels and climate control integration. Our mission is to provide quality enclosures that are secure from damage and durable for long-lasting service. We are located in Mercersburg, Pennsylvania, with the capabilities to create industrial enclosures for customers throughout the United States.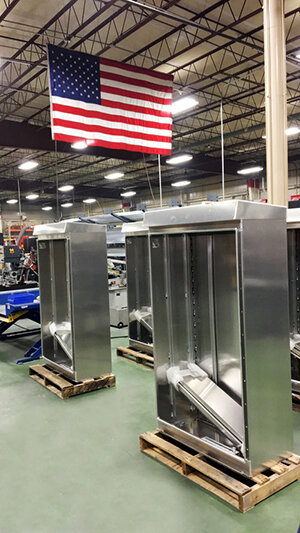 Weatherproof Electrical Enclosure Manufacturer
An electrical enclosure is a box made of steel, stainless steel or aluminum that holds electronic equipment to protect against environmental conditions, prevent electric shock and shield sensitive elements from electromagnetic and radio frequency interference. These metal enclosures are useful in many industries that require secure protection for electronic components.
APX Enclosures recognizes that every customer has different industrial enclosure needs, so we offer custom enclosures to make sure that your product gets every feature you require. Speak with a representative today to get our engineering team started on a design that meets your needs. Your customizable options include:
The sheet metal enclosures by APX Enclosures are NEMA certified and UL listed to 508A. These standards mean that our enclosures meet rigorous industry standards for safety and quality, and you can trust in your APX Enclosures product to meet your requirements.
Every outdoor weatherproof electrical enclosure we make is non-corrosive and weatherproof, so you can trust these products to protect the electronic equipment inside from heat, rain, dirt, dust, sleet and other extreme elements.
Electrical enclosures are useful for a variety of fields involving electrical equipment that must be protected. As one of the top electrical enclosure manufacturers in the region, APX Enclosures works with customers across many industries, including:
AC/DC power equipment

Civil engineering

Industrial production

Infrastructure

Transportation
Within these applications, our electrical enclosure products may protect equipment like circuit breakers, telephone cabinets, pressurization and purging equipment, and distribution boards and panelboards. Because each industry has different needs, our engineering team will work with you to design a custom cabinet for your equipment.
Make APX Enclosures Your Electrical Enclosure Company
If you need a weatherproof electrical enclosure, APX Enclosures can provide you with a solution. We make industrial enclosures that are tailored to your specifications, built to last and suitable for a variety of industries. Our product design and quality have kept us at the forefront of the industry since 2001, and we are constantly innovating and striving to maintain that position of leadership.
Get in touch with us through our contact form to order your industrial enclosures or learn more about our products. Enclosures from APX are made in the USA.