A control panel is the electrical connections that manage and monitor a mechanical or electronic process. Because these components are interconnected and essential for operation, they are housed together in a control panel enclosure.
APX Enclosures has manufactured these cabinets since 2001. Our NEMA enclosures protect housed electronics from rain, snow, dripping water and corrosion. Our engineers can customize the layout and features of your enclosure to meet your application's requirements. Regardless of the configuration and custom options you choose, your control station enclosure will last for the long term.
Control Cabinet Enclosure Applications
A space containing sensitive electrical equipment requires a high-quality control panel enclosure to ensure adequate protection. Exposure to elements like the sun, rain, dust and dirt can potentially damage the equipment and potentially result in an electrical fault. Industrial control panel enclosures are designed to house all of the electrical components in a control panel.
Knowing which type of cabinet enclosure is right for your application is critical. Junction boxes and circuit breakers come in many different types and designs with unique protection requirements.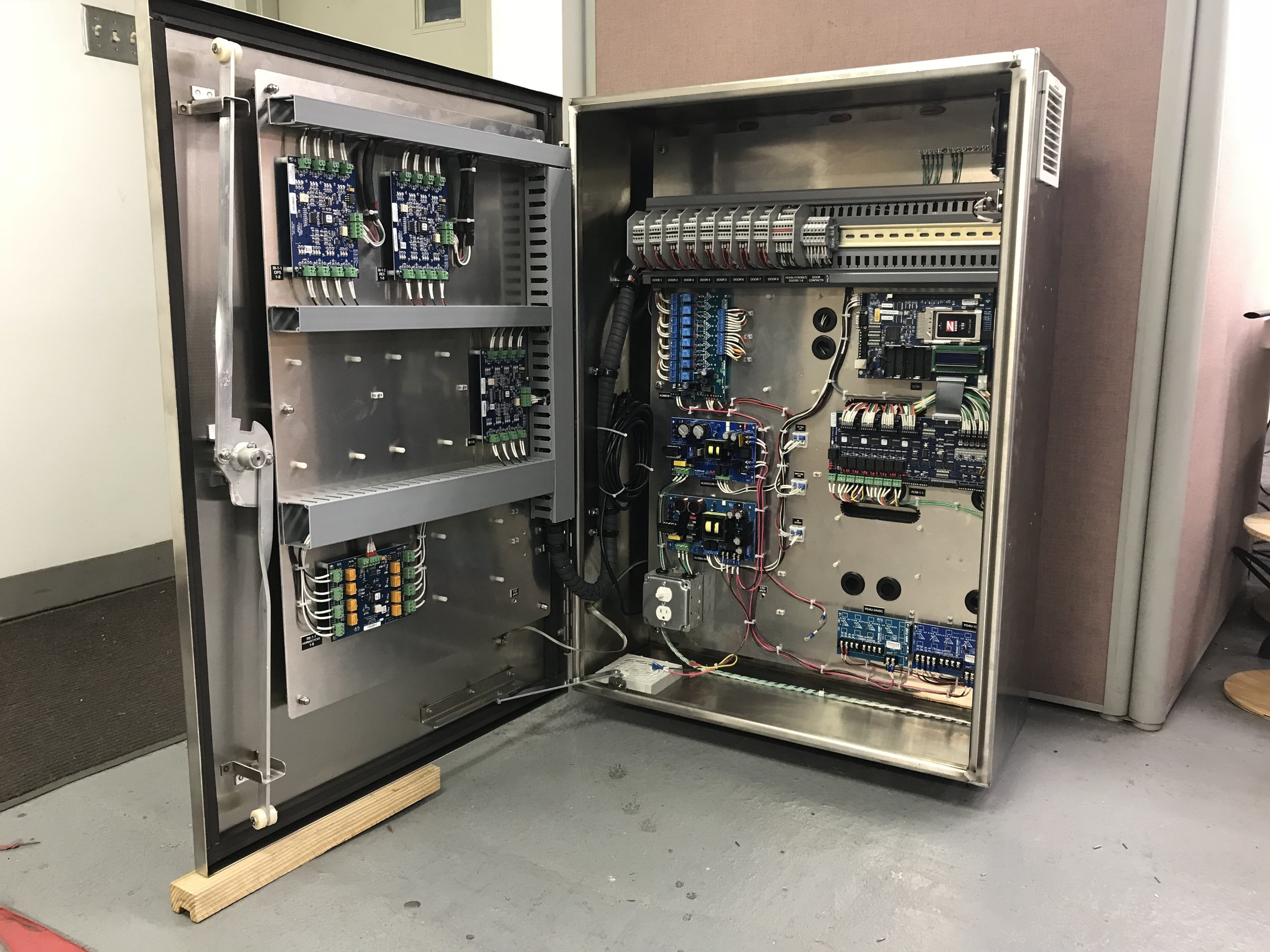 Examples may include:
Power supply

Terminal block

Surge arrester

Power circuit

Transformer

Programmable logic controller

Contactors

Relays

Network switch

Main circuit breaker

Overcurrent protection devices

Wires and cables
APX Enclosures can install racks and shelves within the cabinet for the optimal layout of your electronics. Our control panel enclosures are available in many sizes and layouts, so you can select a cabinet that meets your needs.
Control Panel Enclosure Configurations and Layouts
APX Enclosures offers several configurations for control panel enclosures. Each varies based on features like the size of the cabinet and the number and placement of doors to ensure the layout works for your electrical components. Configurations include:
Benefits of APX Control Panel Enclosures
When you purchase a custom cabinet from APX Enclosures, you'll receive a superior protective solution specific to the equipment you're protecting. The primary advantages of our enclosures include the following:
Weather-resistant: We design our enclosures to securely house and protect your electronic controls and components in the most demanding indoor and outdoor environments.

Lockable and secure: Our cabinets are lockable and contain the highest-quality materials to protect your equipment from tampering or theft.

NEMA certified and UL listed: Our enclosures are NEMA-certified and UL listed to meet industry compliance and optimal performance standards.

Fully customizable: All our cabinet designs are customizable to meet your system needs. We can provide custom cutouts, shelving configurations and other options pre-fabricated into the design. These features save you time and resources during installation while offering significant cost savings.
Control Cabinet Customization Options
APX Enclosures offers many customization options for your control cabinet enclosure to make it entirely your own. These extra features provide additional benefits, and they tailor your cabinet to your specific needs. Choose from the following customizations:
Electrical integration: Add switches, plugs and similar additions to your control panel enclosure with electrical integration.

Mounting: Mounting options give you the flexibility to install your cabinet in different ways.

Heating and air conditioning: Climate controls for warming and cooling keep the enclosure's internal temperature within a specified range to protect sensitive components.

Insulation: Insulating the interior of your cabinet keeps the air at a consistent temperature and prevents leaking.

Fan kits: Fans remove the heat and bring in fresh air to keep the components cool.

Shelves and racks: We can install racks and shelves in your cabinet according to your specified size and placement.

Multiple finishes: APX Enclosures can apply a finish to your enclosure for extra protection.
Let APX Enclosures Help You Create Your Custom Control Panel Cabinet Today
Whether you need a custom enclosure for a control panel, circuit breaker, transformer or another application, APX Enclosures has the perfect solution. For more information about our options, visit the customization options page on our website or consider a custom industrial control panel enclosure. All of our enclosures are made in the USA.