Battery & Generator Enclosures
At APX Enclosures, we can design and fabricate an enclosure to meet your required footprint. Additionally, we can design and manufacture standard or custom rack configurations based on the items that will be installed the enclosure. For any necessary certifications, APX will support and fulfill these as requested.
Our production team can also provide valuable electrical integration services that includes wiring and testing of the components prior to shipping the enclosure from our facility.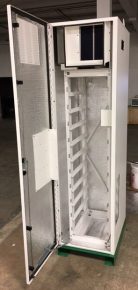 Enclosures for Battery and Power Storage
When you rely on a battery or generator, you need it to work perfectly. No second-guessing and no stalling. Keeping your batteries and generator primed at all times requires shelter from the elements. APX Enclosures provides a solution with our line of custom outdoor battery, solar battery bank and metal generator enclosures.
Each structure is designed to safely house your equipment while providing protection from poor weather conditions, water damage and corrosion. Custom cooling and heating features ensure you can keep sensitive equipment at its ideal operating temperature, preventing overheating or freezing. Our NEMA 4X battery enclosures provide an additional level of defense against vandalism and damage from hose-down, splashing water, oil and coolant.
Solar Battery Bank Enclosures
Solar batteries provide a variety of benefits, including eco-friendliness and energy efficiency. To keep solar bank batteries running smoothly, it's crucial to defend them from environmental damage.
APX Enclosures offers custom-built solar battery enclosure cabinets. Each structure is waterproof and durable, constructed in your choice of aluminum, carbon or stainless steel. Beyond keeping your solar batteries protected from natural wear and tear, our cabinets ensure safety from theft and unauthorized access.
NEMA Generator Enclosures
Choose from a line of custom NEMA battery enclosures designed to house and safeguard your generators in the long term. Each enclosure meets rigorous industry standards for quality you can count on.
Our custom NEMA enclosures guard your generator against damage caused by:
Unauthorized access

Water from rain, sleet, snow, hose water or flooding

Spray from oil and coolants

Dirt, dust and falling debris
Learn more about our NEMA 3R and NEMA 4X enclosures to determine which is the best fit for your power application.
Generator Noise Reduction Box
Your generator and battery box should be one of your most valuable assets. Our battery and generator enclosures have many capabilities to help you get the most out of your equipment. At APX Enclosures, we offer a variety of customizable enclosures with different add-ons to extend the service life of your equipment.
Quality insulation can help decrease the sound emanating from a generator and help maintain optimal operating temperatures.
SOUNDPROOFING FOAM
We can source soundproofing foam based on your requirements. The foam selected helps mute the generator without impacting the amount of energy it stores. The extra layer of foam traps the sound emitted by the generator to provide quieter surroundings.
There are two types of noise that insulation can decrease:
Airborne noise: These sound waves travel through the air until they collide with an object, such as a wall or a door.

Impact noise: These are sound waves resulting from one object coming into contact with another. If you are close to the generator, you may feel the vibrations and hear the generator's impact against the ground.
A generator box alone helps stop impact and airborne noise waves from distracting or disturbing people in the vicinity. Insulation helps further reduce noise and create a quieter environment. You can purchase and install insulation foam or have a professional install it for you.
How Can Soundproofing Foam Help My Enclosure?
Some of the benefits of a soundproof generator enclosure include:
Minimal vibrations: Generators vibrate as they create energy, which can be a distraction to those nearby. Soundproofing your generator box will help limit how much vibration affects the surrounding area.

Limited soundwaves: While they are essential for providing supplemental power, generators create noise as well. Insulation foam dampens soundwaves as they pass through the generator box, resulting in a more peaceful environment outside.
We also offer insulation to manage the internal climate of your generator enclosure. This insulation maintains the internal temperature all year long and also helps to dampen excess sound. Our climate-controlled NEMA enclosures are ideal for keeping your generator working in both extreme heat and cold.
Both residential areas and commercial buildings can benefit from soundproofing. Whether your generator is near your office building or close to a residence, a generator sound enclosure with foam insulation will help you maximize its benefits with minimal disturbance.
We understand that every client has different priorities. No matter your goals, our design and manufacturing team is committed to creating the one-of-a-kind enclosure you need. We're highly flexible and able to work around your budget and location as well as your generator size. Our tailored approach ensures the enclosure will meet your sizing needs and seamlessly fit in your space.
Our customization capabilities extend beyond cutting and assembling your enclosures. We offer various customization options, including:
Electrical integration: Incorporate optional electrical accessories, including overhead lighting, power strips and door alarms.

Heating and cooling: Manage your enclosure's temperature year-round with a range of climate control options.

Insulation and ventilation: Choose from a variety of fan kits, filters and gas vents.

Custom shelving and racks: Build out your storage space as needed through optional hardware.

Multiple finish options: Select your ideal finish among options like heat-resistant ceramic coating, baked or air-dried enamel, and wash and etch primer.
Contact APX Enclosures to Get Started Today
Our experienced Project Engineers are ready to partner with you and build a unique generator or solar battery enclosure. Contact our team today to get started.