If you're looking for custom cut materials for anything from sneeze guards to guide rails to signs, we can create what you're looking for with our precision routing capabilities. Let us provide the product you need for your next project, designed to meet all of your dimensional and material requirements.
APX Enclosures, Precision Routings Division, specializes in CNC routing by using different composite materials to help meet the needs of many different industries. We can design, prototype, manufacture, and deliver our products while ensuring a quick turnaround and great quality.
Precision Routing Products Designed for You
When it comes to what we can design for you, we have a lot to offer. We can provide equipment and parts for machinery, offices, production processes or factories — and those are only a few examples. Our versatile tools allow us to offer services and products for many types of materials and functions, regardless of what industry you're in.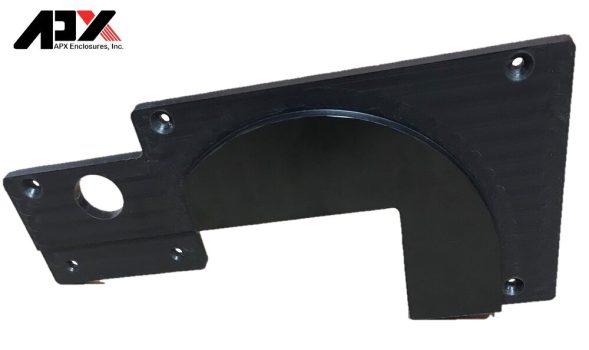 PRODUCTS
Our precision routing capabilities allow us to design a variety of custom products to fit your project requirements. Our wide range of products includes the following:
Guards

Wear Strips

Wear Pads

Lexan® Panel Windows

Slide Rails

Foam Panels

Signs
MATERIAL COMPOSITIONS
Whatever you need us to design, we have many materials available to manufacture it. Our options for the material composition of our products include:
UHMW

Sign Board

Plywood

Fire-Rated Plywood

Foam (Insulation)

Lexan®

PVC

Delrin/Acetal

Glastic

Phenolic Resin
Versatile Design Capabilities for Your Industry
Precision routing allows us to design and manufacture products customized to your project requirements. We can cut out materials in the dimensions you need. Then, if you need some additional customization along with custom cut materials, we can also provide services such as:
Lettering and engraving.

Reverse engineering market applications.

Architectural signage.
With our versatile precision routing capabilities, we're able to meet specific needs across many industries. Companies trust us to provide the customized materials they need for diverse projects. Some of the industries and types of businesses we've worked with include:
Dairy industry

Restaurants

Conveyors

Sorters

Packaging

Distribution centers

Cabinet/furniture industry Woodworking shops
Custom Cut Materials to Meet Your Project Needs
When you need a product that meets the exact specifications for your project or business, we have you covered. Do you need sturdy, reliable equipment, tools or maybe a machinery part? With precision routing, we can make them according to your criteria.
We can create materials according to the dimensions you need up to 5 inches by 48 inches by 120 inches. While we don't offer cut steel or stainless steel for these products, we have a wide variety of other materials available, from plastic to wood to foam.
CUSTOM CUT METALS
Wear blocks: We can design and cut metal wear blocks for your manufacturing or woodworking processes to protect other blocks in the set from wear.

Furniture parts: For small but essential furniture pieces like drawer slides, shelf brackets, fasteners or handles, customize the exact details you need with our precision routing services.

Guide rails: Direct your product or machine efficiently with our custom cut metal guide rails, designed according to your project specifications.
CUSTOM CUT WOOD
Wood panels: Get custom cut wood panels from us for decorative walls, building projects or anything else you might need.

Furniture parts: If you need wood pieces for furniture, whether that be columns, track systems, furniture feet or another accessory, we can design it to help you complete your project.

Wood products: You may be looking for a small accessory, a decorative piece or a machinery part to finish your project. Whatever it is, talk with us about our design options for wood products.
CUSTOM CUT PLASTIC
Guide rails and blocks: Create the processes you need to direct products or machinery to the right place with plastic guide rails and blocks cut to your specifications.

Polycarbonate windows: With custom cut polycarbonate sheets, we can provide you with sturdy plastic windows designed to fit your window frame size.

Molds: Are you molding liquid plastic or metal, casting resin or creating another product that needs a customized mold? Let us make you a plastic mold designed with the exact shape and dimensions you need.

Walk-in cooler flaps and strips: If your facility uses a walk-in cooler, we can design flaps or strips for the door to make getting in and out more convenient.
PARTITIONS AND SNEEZE GUARDS
Partitions: Do you need partition panels or frames for sectioning out a larger space or for adding decorative elements to a project? We'll cut the pieces for you so you can set up the partitional areas you need.

Sneeze guards: Keep food and other products sanitary and germ-free with a countertop sneeze guard.

COVID-19 virus shields and covers: Ensure that customers and employees are safe with a shield or sneeze guard to prevent the spread of the coronavirus.
CUSTOM CUT FOAM INSULATION
Insulate your building spaces with custom-cut foam to fit your size and shape specifications.
Get What You Need With APX Enclosures
From the first step to the last, APX is there to ensure excellent customer service and quality products to you and your customers. Contact us today at (717)-328-9399 to see how we can help on your next project!